Top Choice For Dumpster Rental Pearland
Junk piling up? We've got a solution! HTX Dumpsters is the name to call for a clean slate with our dumpster rental Pearland options. Anyone working on big residential, commercial, or construction projects understands how important working with a trusted, reputable company offering dumpster rental in Pearland TX can be. That's why we're your first choice when you need to rent a dumpster in Pearland, Texas!

We are the dumpster rental Pearland homeowners and businesses know they can count on to show up with the right equipment when they need a small dumpster rental, 20 yard dumpster rental Pearland, large roll offs for construction, or any other dumpster service Pearland residents need to clean up an area! Our affordable bins are perfect for commercial and demolition work as well as hauling off any residential and yard waste.

Don't waste time looking around for the best way to rent a dumpster Pearland TX when you can call our professional, experienced team today. HTX offers the best dumpster prices Pearland residents can find for all of your dumpster rental needs.

Give us a call at (832) 736-4375 to discuss all of your dumpster rental Pearland options and reserve your bin today!
We Take Just About Everything
Some examples of the junk we haul away include
Refrigerator Disposal

Garbage Removal

Mattress Disposal

Foreclosure Clean Outs
Construction Waste Removal

Yard Waste Removal

Trash Removal

Appliance Removal
Television Disposal & Recycling

Furniture Removal

E-Waste Disposal

Hot Tub Disposal
Looking For a Residential Dumpster Rental in Southeast Pearland TX? We Have Your Needs Covered!
HTX is the most trusted residential dumpster rental in Southwest Pearland TX for good reason. We're your source for affordable, clear-cut prices Pearland homeowners love! We make it easy to plan your cleanup job by offering same-day dumpster rental Pearland residents can use to clear away trash and debris quickly.

We offer dumpsters Pearland residents can use for cleanup projects of all sizes. We also offer 20 yard dumpster prices Pearland homeowners can easily afford because we don't pad our estimates with unnecessary extras. In fact, we'll help you find dumpsters for rent in Pearland that's the perfect size for your job without pushing you toward something bigger than what you actually need.

HTX is considered the cheap dumpster rental Pearland homeowners can use when they want a hassle-free way to get debris and junk cleared from their homes and yards. There simply isn't a more affordable way to rent a roll off dumpster Pearland Texas residents can feel good about. That's because we do more than offer cheap services. HTX operates using ethical, responsible principles for waste disposal with stellar customer service and on time delivery.

When you rent a dumpster in Pearland TX, rest assured that our team is always working in full compliance with all city, county, and state regulations regarding waste handling and disposal. We work closely with Atascocita Landfill, BFI McCarty Landfill, BFI Blue Ridge Landfill, Addicks-Fairbanks Landfill, Dixie Farm Landfill, and the dozens of other waste disposal facilities located throughout Pearland's surrounding towns and counties. Rest assured that we adhere to all policies and procedures regarding the types of items that can be disposed of in specific landfills and waste management facilities when you rent a roll off dumpster Pearland with us.

When you book a residential dumpster rental in Southeast Pearland TX with us, you never have to worry about where your trash will end up. Unfortunately, some less-than-reputable trash haulers don't follow local guidelines because they want to cut costs. This may be why they're able to offer you suspiciously low rates when providing garbage dumpster South Pearland TX quotes. This can come back to bite you if your trash is found to be discarded illegally by the authorities. Get your South Pearland roll off dumpster and hauling taken care of by the trusted dumpster experts at HTX Dumpsters instead.
Residential Dumpster Rental in Pearland
Where do you begin with finding an affordable, responsible dumpster rental in Pearland? At HTX Dumpsters, we streamline the process of getting your waste and junk removed and hauled away by providing easy residential packages. Don't search everywhere for the best dumpster rental Pearland when we offer easy, affordable options you can book today!

Our residential dumpster rental Pearland options can be used for a wide variety of residential projects and goals, including garage, attic, and basement clean outs, yard pick up, tree limb and debris removal, small remodeling projects, and so much more. Whether you're preparing an estate or getting rid of old, unusable furniture, our we're the best dumpster rental in Pearland Texas to support your DIY goals today!

It's okay if you're not sure what size you need for a residential dumpster rental South Pearland TX. When you reach out to us, we'll work with you to help you get a clear estimate on the amount of space you'll need based on the job at hand. We know how to size the roll off dumpsters Pearland customers need because we've been doing this for years. We'll also help you determine how much time you'll need to keep your rental dumpster stationed on your property. If it turns out you need more than what you originally signed up for, our team will happily help you extend your contract based on your updated needs.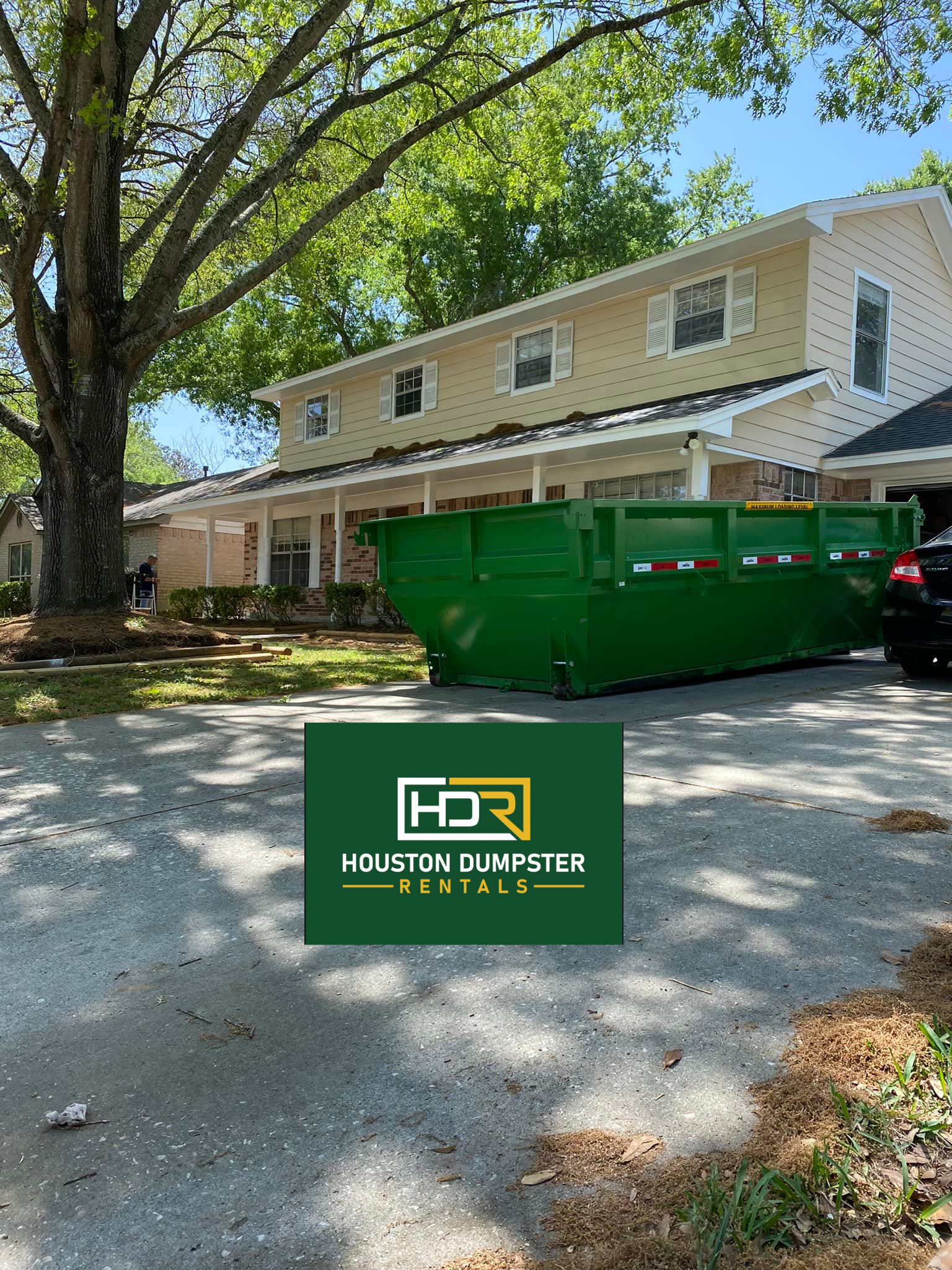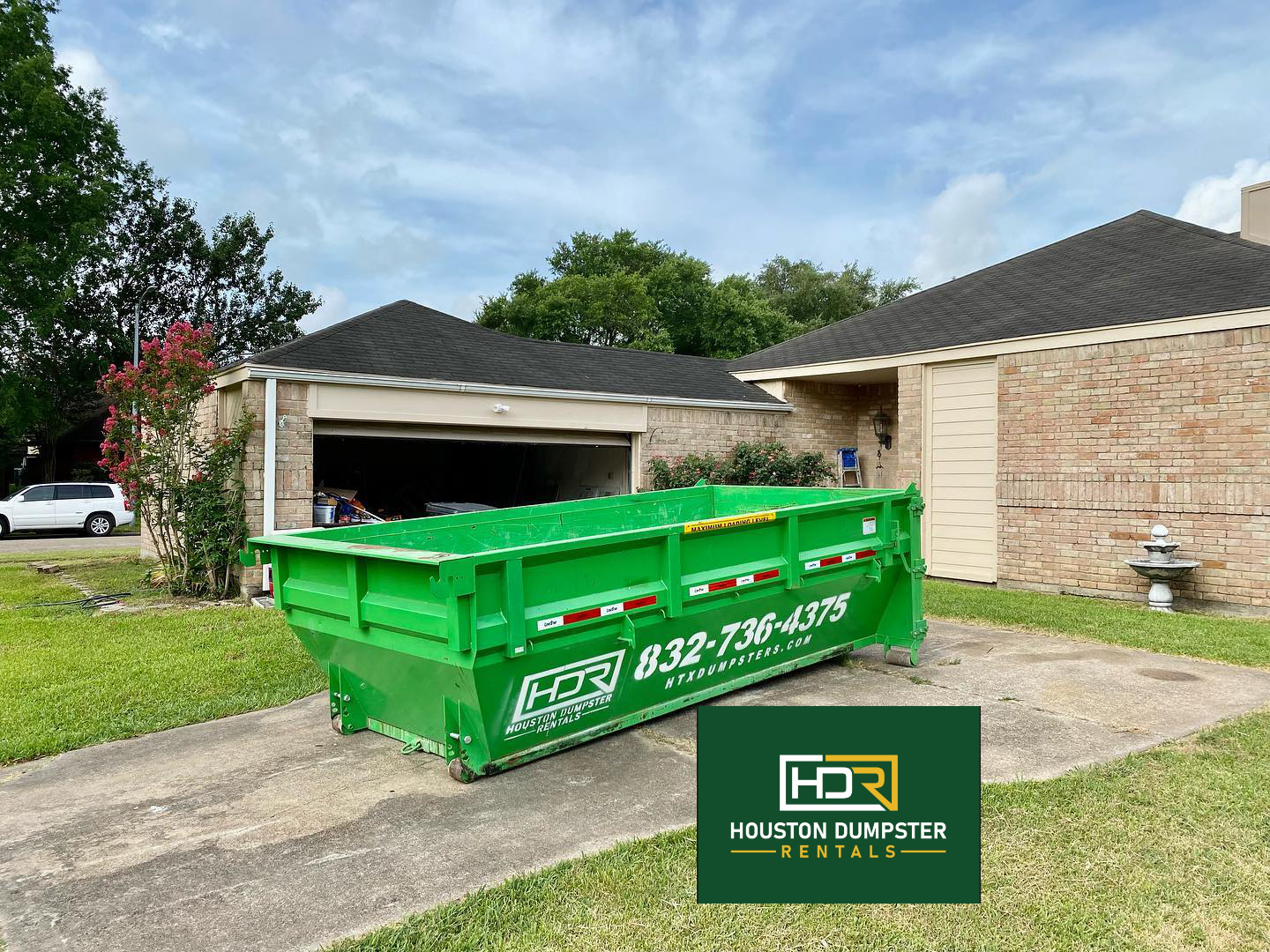 Pearland Dumpster Perfect for Yard Waste
No matter what the size or scope of your upcoming project, we have a Pearland dumpster that will get the job done. If you need a small dumpster rental Pearland, HTX Dumpsters is here to handle all your needs. We offer one-day, three-day, and seven-day rentals. You can also extend your rental period for a daily fee. Every booking includes two tons for free!

When you rent with us, your Pearland dumpster includes large swinging doors for easy access. Our dumpsters also feature wheels for easy rolling. This specific dumpster rental service Pearland residents can choose is ideal for construction and remodeling projects, roofing jobs, garage cleanouts, attic cleanouts, and other smaller-scale at home projects. While our Pearland roll off dumpsters can hold a wide variety of materials, items like concrete, paint, hazardous materials, dirt, tires, and mattresses are prohibited with this particular dumpster option.

If you need a Pearland roll off dumpster rental, give us a call at HTX Dumpers today at (832) 736-4375.
Construction Dumpster Rental in Southeast Pearland TX
Contractors know that without sturdy, well-kept containers on site, a construction job cannot run smoothly, so if you're looking for a construction dumpster rental in Southeast Pearland TX, give us a call. Discover why so many builders and contractors only work with us when they need to rent a roll off dumpster Pearland TX professionals can use for big jobs. We have a selection of South Pearland roll off dumpster rental prices to fit the scope of your project.

When you work with us to book a construction dumpster rental in Southeast Pearland TX, you're working with a team of professionals. We understand the unique needs of contractors and builders when it comes to safely and thoroughly hauling away debris and construction materials. Our team understands that you need to be able to work efficiently for your clients. We also know that you're tasked with leaving the area pristine while also following all legal guidelines for proper, safe waste disposal. For the most reputable construction dumpster service Pearland, work with our team of professional drivers.

Don't let difficulties with disposal and hauling slow down your project! Book the dumpsters Pearland construction crews have been trusting for years. Just call (832) 736-4375 or use our convenient online booking tool to reserve your construction dumpster rental Pearland today.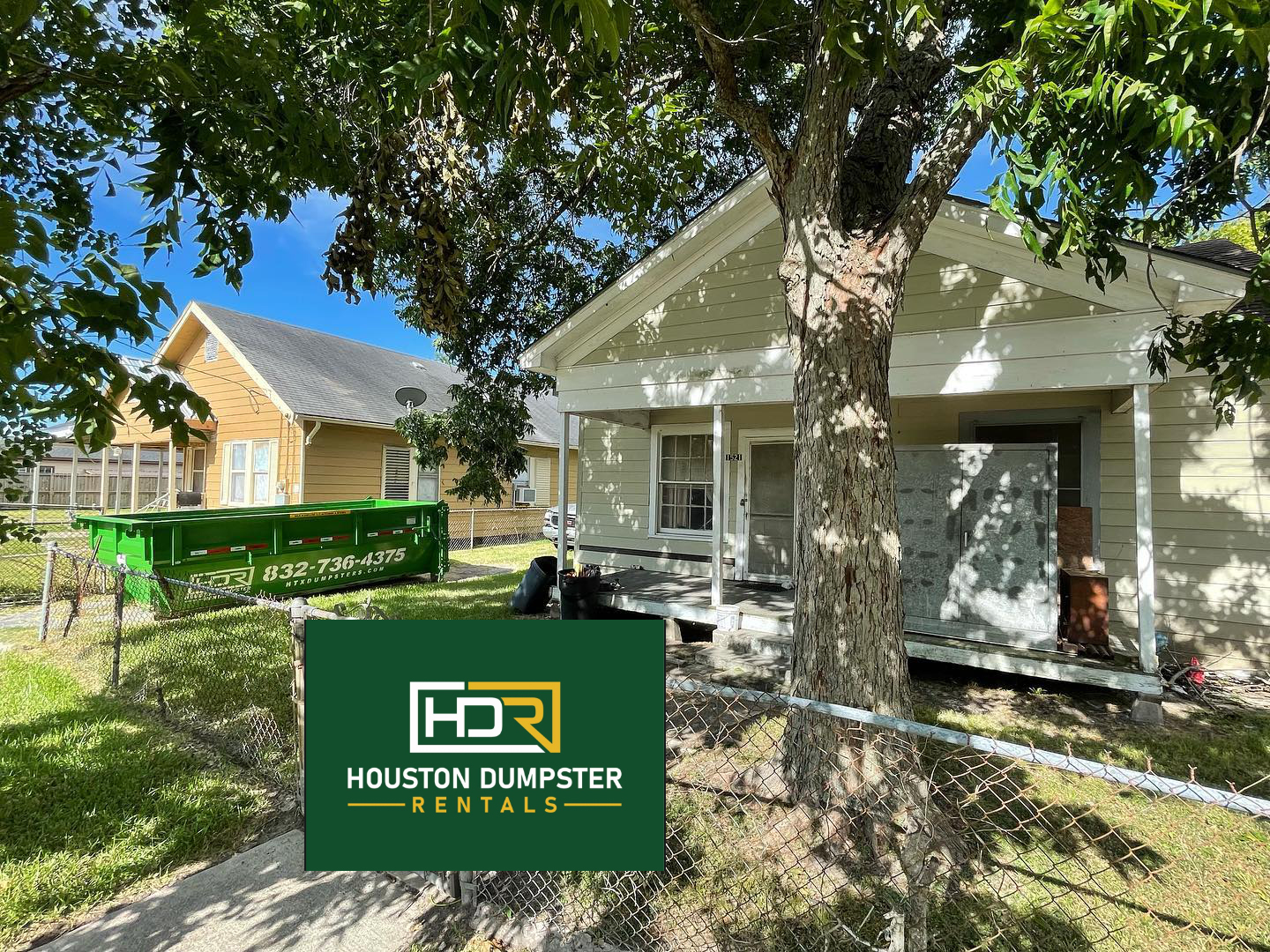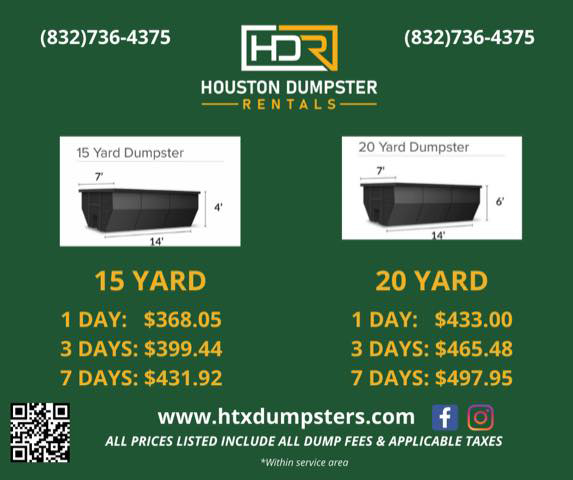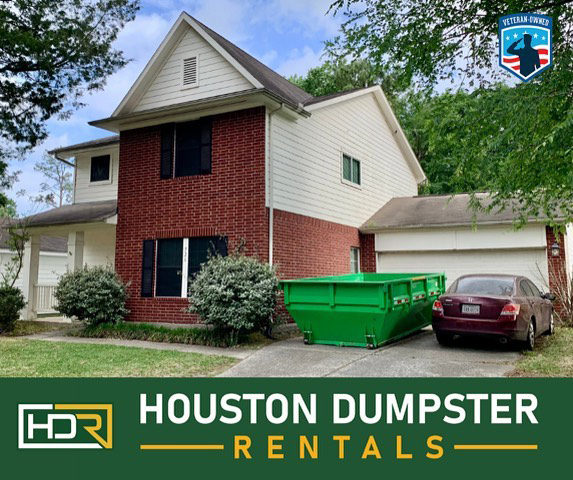 Roofing Roll Off Dumpster Rental in Southwest Pearland TX
If you're looking for an affordable, dependable roll off dumpster rental in Southwest Pearland TX, get in touch with us today. As a locally owned and operated business, we know that the goal is to get the job done quickly with as little spent on materials and logistics as possible. That's why we offer options for a discount dumpster rental Pearland customers can use for projects of all types.

The benefit of a roll off container for roofing is that you can toss discarded shingles and boards directly into the dumpster without worries. When the project is over, simply let us haul it away to leave the property in great shape. There's no easier way to get a roofing project done quickly than with the help of a reliable, affordable dumpster rentals Pearland TX service.

Don't get stuck with messy roofing shingles all over your yard. Call (832) 736-4375 for a dumpster rental in Southeast Pearland TX! Fill up the bin and we'll handle the rest.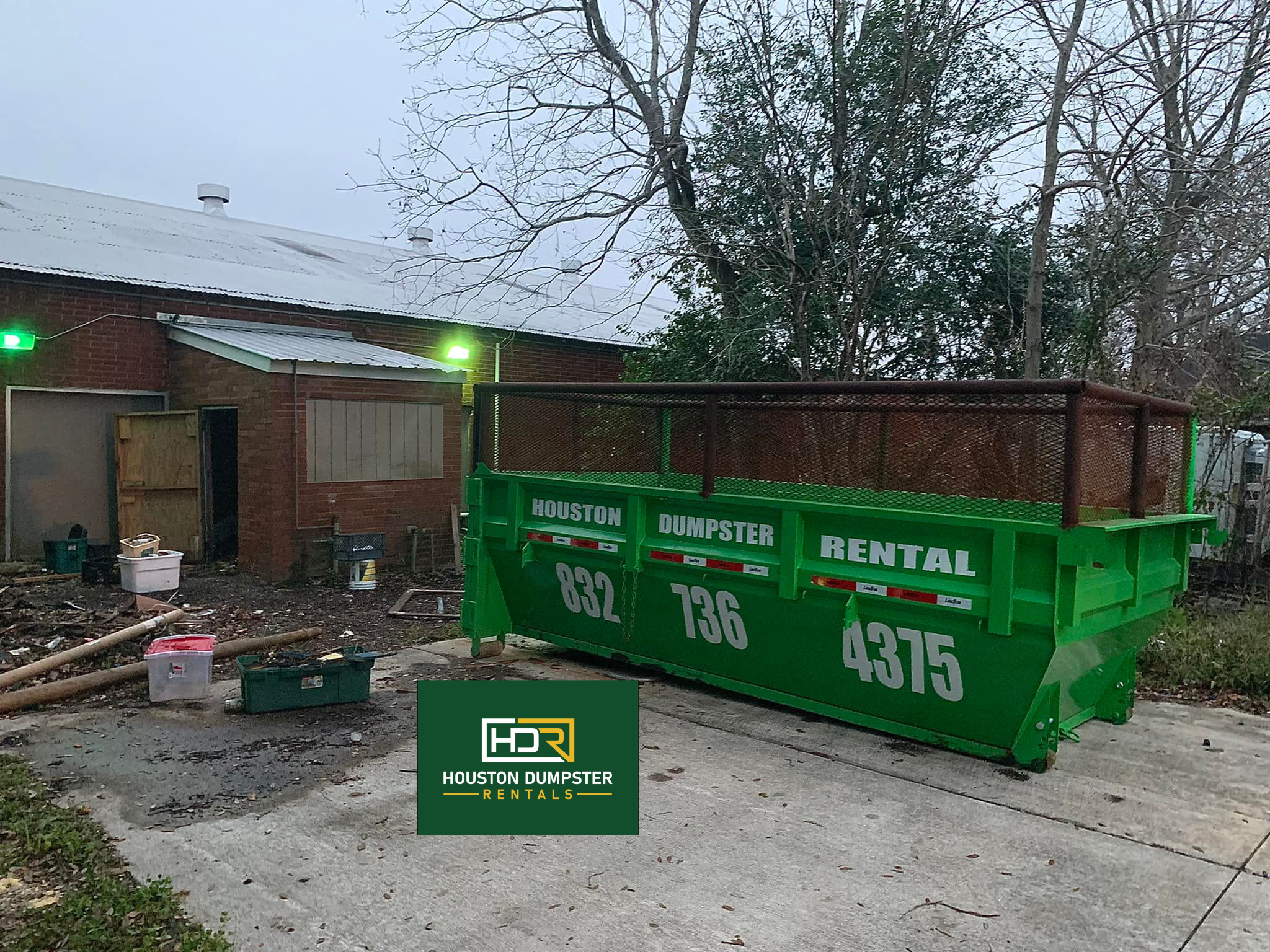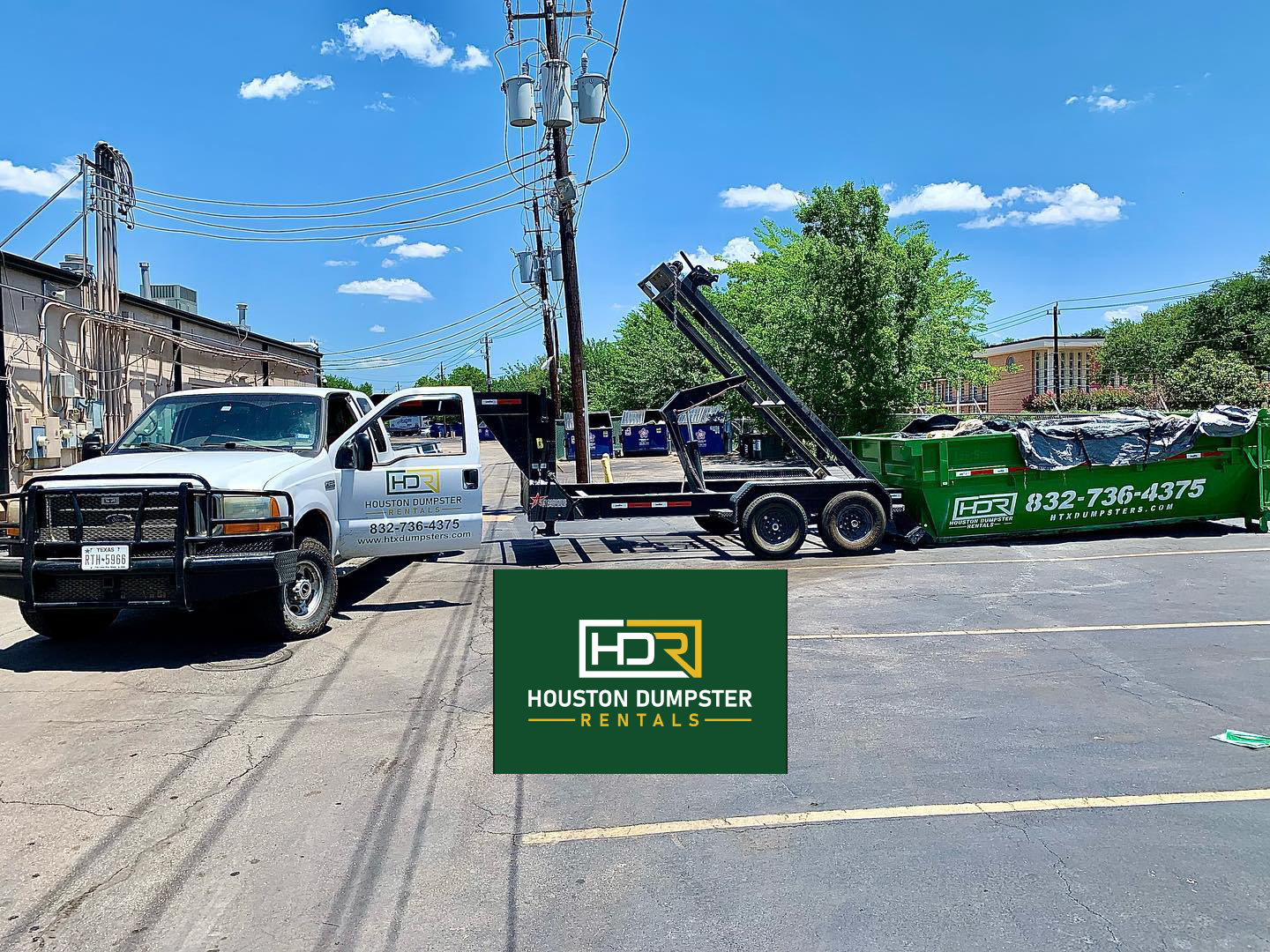 Pearland Dumpster Rental For Commercial Use
We know you need professionalism and excellence if you're searching for a commercial Pearland dumpster rental. If you own a business or commercial space, you understand how a trash problem can quickly escalate into a legal and safety nightmare. Don't get caught without a plan for consistent cleanup at your property! Book one of our reliable trash dumpster rental Pearland options today.

We're the premier provider of commercial Pearland dumpster rental services. We can help if you're looking for a rental during construction, if you need an ongoing waste management plan, or any other reasons why you might be looking for dumpsters for rent Pearland TX that commercial properties can use.

You might have some questions about your options when looking for the best commercial dumpster service Pearland. There's no need to feel overwhelmed. Our team has helped countless commercial properties get exactly what they need without paying for unnecessary services. Simply call our dedicated team of experts today at (832) 736-4375 to get a quote or reserve your trash dumpsters Pearland online.
Demolition Roll Off Dumpster Rental Pearland
If you're in need of a dependable, certified roll off dumpster rental Pearland company contractors can count on, look no further. The basic rule of demolition projects is that what comes down must be disposed of quickly and safely. That's why using a dumpster rental Pearland Texas contractors or homeowners can trust for demolition projects is crucial. Having a dumpster on site to fill at your convenience provides such advantage so that you can haul away what you demolish with ease!

We partner with local contractors and homeowners alike who are in constant need of dumpster rentals Pearland for their demolition projects. We're a roll off dumpster rental Pearland company that can help you size the right dumpster for your project. Hauling old materials away has never been easier. Just call us at (832) 736-4375 to learn about the perfect options based on your project.

Why Choose Us For a Roll Off Dumpster Rental in Southeast Pearland TX?
When you're working on a time-consuming and potentially stressful project, you don't want to trust your roll off dumpster rental in Southeast Pearland TX project with just anyone. We have the experience and expertise needed to help you haul away waste and debris without headaches. Over the years, we've become the premier company to work with for a local dumpster rental in Pearland for all of your residential, construction, and commercial needs.

We know how important it is for your project to be completed without a hitch, so we have an entire fleet of new, polished dumpster rental South Pearland TX options available in various sizes. That means you're getting a safe, clean rental that's capable of holding your tonnage without worries. We also have a dedicated crew ready to drop off and haul away your rental. You'll never worry about having a full dumpster parked on your property after your project is done!

We are also committed to safe, responsible, and fully legal waste disposal with our Pearland dumpster service. We take pride in keeping H-town a clean and beautiful place by responsibly dumping waste and keeping up with all standard waste management practices. Keeping our environment and communities clean and safe is our #1 priority always. We offer competitive Pearland dumpster rental prices with top-quality service and support to match.

We are professional, courteous, and knowledgeable about the needs of our customers and take our roll off dumpster rental in Southeast Pearland TX services to the next level. Our mission is to help you book the right size bin for the correct duration of time to make your project successful without paying any more than you need to. Let's get your quote started for Pearland dumpsters! Call (832) 736-4375 or use our convenient online booking tool to reserve your container.
Dumpster Rental Pearland TX Sizes to Choose From
We make it easy to get the right dumpster rental Pearland TX at the right price without hassles. How do you pick the right size dumpsters Pearland for your particular project? It's a question we get from customers every single day. In fact, choosing the right size for your dumpster rental is one of the most complicated aspects when it's time to rent a dumpster in Pearland. We strive to make the process as clear as possible for you. We actually streamline our services into easy rental options that give you plenty of wiggle room for getting the amount of space you need without paying more than you need to. Our Pearland dumpster rentals are highly recommended for a reason!

Take a look at our available options for dumpster rental Pearland TX sizes:

15 Yard Dumpster: Includes two tonnage with a one day, three day, or seven day rental.

20 Yard Dumpster: Includes two tonnage with a one day, three day, or seven day rental.

If you need to exceed the seven day contract, dumpsters can be retained for a charge of $47 per day. We are more than happy to provide you with a custom quote to rent dumpster Pearland. Our team can also help you determine the appropriate dumpster size and rental duration based on your needs. Call (832) 736-4375 today for a dumpster Pearland quote!
How to Rent a 20 Yard Dumpster Rental in Southeast Pearland TX
Ready to take the next steps? You can simply book a 20 yard dumpster rental in Southeast Pearland TX or one of our other size options online with us or give us a call to talk to one of our team members. We make it easy to arrange your complete roll off dumpster Pearland rental with delivery and pick up included in minutes!

Our services make it easy to avoid online scammers posting in local forums. We're professionals with years of experience and amazing 5-star reviews from repeat customers who call us with all of their needs for dumpsters in Pearland.

Whether you're interested in our construction dumpsters Pearland or need a short-term rental for a DIY home project, we're here to help. If you have questions about getting a 20 yard dumpster rental in Southeast Pearland TX, just call us at (832) 736-4375 to talk to a rep from our office. We'll help go over your options and get the best fit for your needs.
Dumpster Rental in Southeast Pearland TX and Surrounding Areas
We take great pride in keeping H-Town clean and organized with our dumpster rental in Southeast Pearland TX services! We've partnered with Friendswood Independent School District, Pearland Independent School District, and the Pearland City Administration with our roll off dumpsters Pearland TX to keep our city looking great. If you need a Pearland dumpster in any of the surrounding towns or cities, our crew can help you arrange pickup and delivery without a hitch!

We offer Pearland dumpster rental services for customers living in the Pearland communities of 77047, 77089, 77581, and 77584.

We offer affordable dumpster rental Pearland services for clients throughout Harris County and Brazoria County. We also offer commercial and residential roll off dumpster rental services Pearland TX customers in League City, Friendswood, and Houston can count on! Book online using our convenient scheduling system today! You no longer have to search for the best dumpster rental near me in Pearland. Our team is here to help you book your dumpster rental in Pearland TX and surrounding areas today.
FAQs For a Dumpster Rental in Southwest Pearland TX
We understand that all of your options for a dumpster rental in Southwest Pearland TX can be overwhelming, so take a look at some of our most commonly asked questions to get a better idea of what to expect throughout this process.

1. How Much Does a Dumpster Rental in Pearland Cost?
The roll off dumpster rental Pearland TX that you book will vary in cost based on the dumpster size, load tonnage, and rental duration. We are happy to provide a custom quote and we will also fold delivery and pick up into the cost of your rental. We offer competitive, affordable rates for our dumpster Pearland Texas options.

2. What Are Some Items That You Cannot Put in a Rental Dumpster in Pearland?
The list of prohibited items that cannot be disposed of using a dumpster rental in Pearland includes appliances containing Freon, electronics, microwaves, water heaters, washers and dryers, car batteries, tires, some shingles, oil, grease, gas, flammable materials, we liquid paint, liquids in sealed containers, fluorescent mercury lights asbestos, insecticides, herbicides, cleaners, and radioactive material. Any further questions about what can be hauled away in our dumpster Pearland TX? Get in touch!

3. How Long Can You Rent a Dumpster in Pearland?
We allow you to book a dumpster rental in Southwest Pearland TX and surrounding areas for one to seven days. If you need more time, you can pay a daily charge to keep the dumpster on your property until the project is done.

If you have any additional questions about the best Pearland Texas dumpster for your project, give us a call at (832) 736-4375 or reserve your container online today.
Rent a Dumpster Pearland From HTX For a 5-Star Experience!
We earn the respect and repeat business of our customers by offering honest, top-quality services to rent a dumpster Pearland for every project and occasion! Get your dumpster rentals Pearland Texas from the most affordable dumpster rental company in Texas!

We consistently earn top reviews from our customers because we are focused on providing the best experience at the best cost. We offer clear, honest pricing with easy rental options that can be tailored to your haul size. Countless customers have used our options for dumpsters Pearland Texas to get their projects completed under budget. When you're ready to rent a dumpster Pearland, give us a call. We can't wait to add you to our list of satisfied customers after you make us your preferred local dumpster rental in Pearland. Call (832) 736-4375 today!

"The team at HTX Dumpsters goes above and beyond to make things as quick and easy as possible. I will definitely use them again and recommend their bins for anyone." -J. Robinson

"If you're in a bind and need a commercial dumpster on the fly, HTX Dumpsters is the way to go!!" -D. Davis

"I didn't know who to rent from, but I found them online and decided to give them a shot. Needless to say, I was VERY impressed!" -Nathan R