20 Yard Dumpster - 1 Day Rental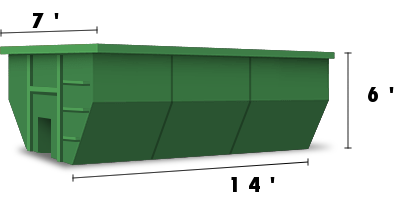 Size: 14' L x 7' W x 6' H
Days: Up to 1 Day
Rent Time Extension: $47/Day
Ton(s): 2 included
Extra Weight: $60/ton
Description
What is NOT Allowed in the Dumpster:
Up to a $250 Fee could be charged for banned items in dumpster
Refrigerators/Freezers/Air Conditioners/Appliances (Freon)
All Electronics (TV's, Radio, Computers, ECT.)
Microwaves
Water Heaters
Washer/Dryer
Batterys (Car Type)
Tires
Shingles (MUST BE SEPARATE NO CEDAR SHAKES)
Oil,Grease, Gas, Flammables
Liquid Paint (Dried is OK)
Liquids in Sealed Containers
Fluorescent Lights (Mercury)
Hazardous Materials (Asbestos, Insecticides, Herbicides, Cleaners, or Radioactive Material)
Any Questions just ask!
Allowed but Regulated
Shingles (200-270 LBS per square 10000 LBS MAX)
Plaster/ Drywall (3500-4000 LBS per yard UNSATURATED 10000 LBS MAX)
Brush/Trees/Grass/Leaves
Any Questions just ask!