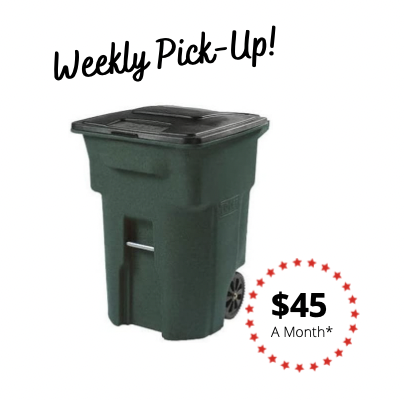 Starting At $45 A Month
Weekly Pick Up
Up to 200 Gallons in personal trash cans
Once a month Bulk Item pick up
Option to add more carts
Reliable Service!
Sign Up For Weekly Garbage Service!
Our Residential Services

At HDR, your solid waste program should be just that: yours. Don't let the big guys tell you what you can and can't put at the curb, when you can and can't put it at the curb, or what container you have to put it in. With our numerous garbage collection options, build a program that fits your community's exact needs and guarantees your community will be clean and pristine every day. Our residential services include:

Garbage Services
Curbside service: Standard collection of residential waste placed curbside in resident-owned cans and/or bags.

Polycart service: Collection of residential waste placed curbside using personal carts.

Bulk waste and yard waste once a month
Our Customers
Residents who live out of City Limits in Brazoria County!
Residential Collection Guidelines
Time

Have waste ready for collection no later than 6:00 am

Household Garbage:

Waste must be placed in personal containers between 20 and 95-gallons or bags.

Containers smaller than 20 gallons or containers that are not built specifically to be used as a trash can will be disposed of

Cans or bags cannot exceed 50 pounds

Drums and barrels are Prohibited Items and will be disposed of

Heavy Trash:

Will be collected once per month

Heavy trash/bulk waste includes waste that is not generated on a regular basis, including:

Furniture (couch, table, mattress, box spring, desk, dresser, etc.)

Appliances (washer, dryer, dishwasher, etc.)

Hot Water Heaters

Fencing/Decking/Siding (please remove nails, cut into lengths 4' or less, and tie and bundle under 50 pounds, limit eight bundles per service day)

Basketball goals (broken down into sections 4' or shorter, no concrete in base or poles)

Carpeting/Flooring (please cut into lengths 4' or shorter and tie and bundle under 50 pounds, limit eight bundles per service day)

Yard Waste

Place grass clippings in cans or bags under 50 pounds. Limit eight bags of yard waste per service day monthly.

Branches should be placed in CLEAR, INDIVIDUAL piles measuring no larger than 3' x 3' x 3', or tied and bundled and under 50 pounds. Branches should measure no more than 6" in diameter to avoid damage to our equipment. Limit eight bundles per service day.

Excess yard waste (more than eight bags or eight bundles) is considered a pay pile.
Unacceptable placement of branches
: pile is larger than allowed and not tied and bundled
Acceptable placement of branches
: individual piles that crews can wrap their arms around to load easily.
Excess Volume
If you have a larger than usual amount of household waste, bulk waste, or yard waste, we can provide you with a quote for an affordable dumpster rental.
Holiday Schedule
We observe three holidays: New Year's Day, Thanksgiving Day, and Christmas Day. Details on holiday schedules are as follows:

Items Not Accepted for Regular Collection
The following items are not accepted with regular collection. Please contact HDR to have a representative provide information on how to properly dispose of these items.
Storm/Flood Debris
At. HDR, we try to make our services as simple as possible for our customers. Please follow these simple guidelines when placing your waste out for collection.
If you are handling storm/flood debris, please follow the diagram below for proper placement of your waste.